60° 2002/03

Comprising of a fully rotating stage (contained in a rotating tent) with 3 rotating subsections, containing 6 scenes that split apart and come together offering unexpected and delightful combinations.

'profoundly anarchic and deeply humanistic... startling inventivness'

'... you get images that are exquisite or sinister or tinged with unexpected pathos. '
'...let your imagination run riot. '

- The Herald

Review ( The Scotsman ) ...'... this production is joyously playful. 60 Degrees is, quite simply, a work of imaginative genius.'
Review ( Dutch ) 'Wonderlijk, meesterlijk, joepie, gewei, gewei, heel veel gewei! Nooit was mijn seizoen zo mooi begonnen.'
60º, Silo Theater

Moose.nl Minirecensie

Aan de buitenkant is het een tent als alle anderen. Niets opvallensds aan. Binnen zijn er zit en staanplaatsen.
Als de voorstelling begint, komen de acteurs beurtelings tussen de in een cirkel opgestelde tribunes staan om aan te geven dat je niet mag roken, tegen het decor mag leunen of er balletjes naar mag spugen (?).
dan begint de voorstelling.
De stellage voor mijn neus begint te draaien als helsche machine en een kakafonie van beelden denderen langs me heen. Langzaam echter, krijgen de beelden betekenis: het leven van alledag in een post-apocalyptische wereld waarin de MTV generatie het heeft gewonnen van de ouderwetse boekenlezer. Een mannetje komt voorbij, volledig niet door hebbend dat hij zijn tractor berijdt in een miniatuurwereld (waar is mijn folder van Rieks Swarte). Boodschappen worden gedaan bij de Dirk maar alledaagse artikelen als scheerschuim en pleepapier hebben hun functie verloren en worden in de machine van het decor vermalen tot een pulp. Projecties leveren commentaar en een stripverhaal is heerlijk onvolgbaar.
Pogingen om in de gewonen wereld terug te keren zijn nutteloos omdat men door zijn huis is verzwolgen.
Wonderlijk, meesterlijk, joepie, gewei, gewei, heel veel gewei! Nooit was mijn seizoen zo mooi begonnen.
En een extra gewei voor de voedende engel! (LmR, gezien 17/8/02, tijdens De Parade)



Watch a video of the 2003 Robodock festival performance

Using various characters, animated objects, film, and a 6 channel sound system that rotates with the stage, Silo Theater are able to create a mesmerising world that challenges conventional ways of percieving theater.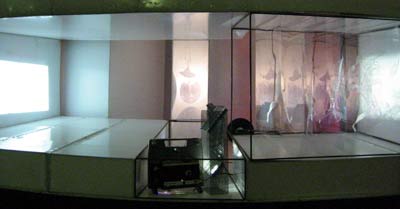 60 Degrees premiered at Oerol festival, and has played at the Parade , Robodock Festival Amsterdam, Macau Fringe Festival (CHINA), FAKI Festival (ZAGRAB, CROATIA), The Tramway (GLASGOW SCOTLAND), INFANT Festival (NOVI SAD, SERBIA), and PUF Festival (PULA, CROATIA).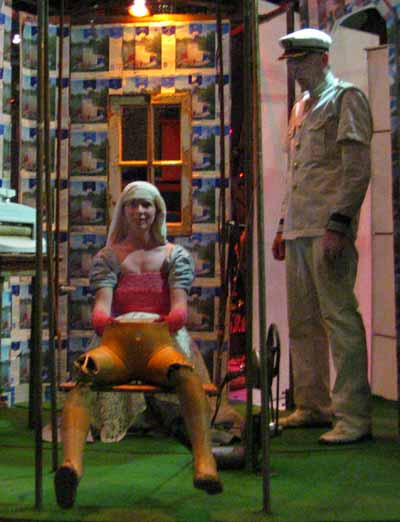 Show duration -30 minutes. Max public - +/- 100 people. Space occupied by tent - circle diameter 14m